Graduation season is quickly approaching and about this time two years ago I was obsessively pinning ideas for my graduation cap. If I was going to have to sit through a long, rather boring ceremony about how we are all going to change the world, then I might as well look cute doing it. When I was deciding on how to design my perfect high school graduation cap, I knew there was only one way to do it: the Disney way.
Here is what it ended up looking like
Not bad huh? If you like the idea and want to replicate it, here are the steps I took to make my Disney graduation cap!
Step 1: The background
It doesn't matter what color your graduation cap is, so don't worry too much about that. What my mom and I started with was getting a piece of sparkly silver cardstock paper. (We chose a silver color because silver and blue were my school's colors and it was a nice background for the red bow but other colors will work just as well.) We then hot glued this to the cap, but you could probably use some sort of fabric glue or another strong form of glue. I am just kind of obsessed with hot glue. It's weird, I know. Just go with it.
Step 2: The outline
The rhinestones going around the perimeter are actually a roll of rhinestone stickers I found at Michaels. I would recommend gluing these to the paper because the stickers will not stay as well on their own. Make sure to measure the perimeter of your cap so you know how long of a strand you will need.
You can find the ones I used at Michaels.
Step 3: Minnie's head 
Next, make the Minnie Mouse head. This was pretty simple to do. I printed out a picture of a Mickey Mouse silhouette (so there was no bow). It was kind of trial and error to figure out what size I wanted the head to be. I ended up printing out a few different sizes to see which one would look the best on my cap. Once I decided on a size, I taped the silhouette to a piece of black paper and cut around it to make the outline. Then, I glued that onto the cap. Make sure that it is in the center and that your tassels will come out through her head.
To make the pearl outline, I once again used stickers from Michaels and glued the pearls around Minnie's head.
Here are the pearl stickers I used
Step 4: Minnie's bow
To make Minnie's bow took a little bit of ingenuity. We ended up printing out a picture of her bow and once again cutting it out on black paper. Then, we glued it to the cap. We found these lovely big, silver stickers at Michaels that we decided to use for the polka dots. Glue these first so you don't have to glue them on top of the sequins.  We finished by gluing red sequins to cover the rest of the bow.
While not the exact ones I used, something like these should do the trick for the polka dots.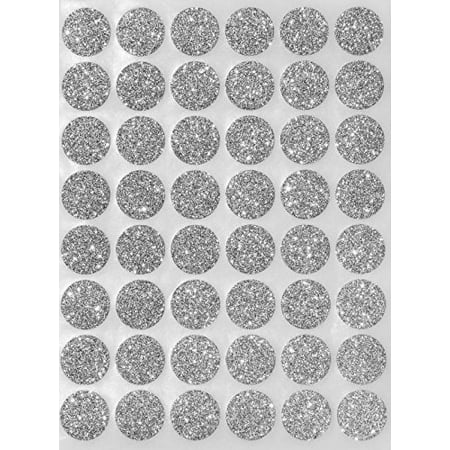 Step 5: The words
This was pretty easy. I got sparkly blue letter stickers from Michaels and glued them onto the hat. If you don't want this phrase, I would recommend sticking with something that is four words so you can have one word on each part of the hat without it looking cluttered or uneven.
Step 6: The tassels
There is really no convenient way to put your tassels on, but the best way we found was to poke a hole where the tassels are supposed to go and thread the tassels underneath the paper. If you add some glue to make them stick it shouldn't be too much of a problem.
So that's it! That's how you can make your own Minnie Mouse graduation cap, and congratulations on your approaching graduation!