He's been dubbed the original angry bird; he's Mickey Mouse's best friend; he has a lovely lady duck named Daisy for a girlfriend; and he has three adorable little nephews named Huey, Dewey and Louie. That's right folks: it's Donald Duck! With his distinct and loveable quack and his perfect blue sailor shirt, it's pretty hard not to love Donald. Here are some of the best Donald Duck moments!
1. When Donald made his debut in "The Wise Little Hen"
Donald Duck learned a very good lesson in his debut about what it means to be a good friend and he has learned to put it into practice! We can't help but love the little lazy, silly, sailor duck who appears in this original cartoon.
2. His appearance in Saludos Amigos
3. Every time him and Daisy kiss
He's always a little embarrassed but utterly and completely happy.
4. When he's a great uncle to Huey, Dewey and Louie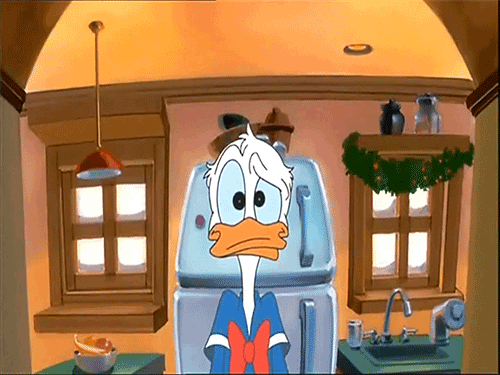 He tolerates all their shenanigans.
5. When he's grumpy in Mickey's Magical Christmas: Snowed in at the House of Mouse
It's just so characteristically Donald.
6. His performance as the Mouse King in "The Nutcracker"
"The Mouse King wins in the end" "He does?" Oh, Donald. So gullible but so adorable.
7. When the Donald Duck theme song comes on
It's almost as good as Mickey Mouse's.
8. Whenever he loses his temper
It's why we love him.
9. When he returns to be a Musketeer
Even though he was afraid, he came back for his friends!
10. Whenever he smiles 
While we know and love Donald for all of his grumpiness, we also love whenever he smiles and realizes how much his friends care about him!